Mobile document shredding for Placentia, CA scheduled at your convenience.
Coastal Secure Shredding's technicians comes to your door in Placentia, CA and destroys documents at your Placentia, CA location. Coastal Secure Shredding provides locked containers (or consoles) where you drop in all material needing shredding. Your Placentia, CA shred technician takes the container(s) to our truck, and in minutes can shred what would take hours with a small office shredder.
You may view entire process via video monitor at the truck. The empty container is then returned to its location in your Placentia, CA offices. Route services near Placentia, CA may be scheduled weekly, monthly, quarterly, or any combination that meets your needs. Coastal takes the worry out of compliance with state and federal document destruction mandates.
Don't live with piles of paper and stacks of unsightly storage boxes!
Whether you are cleaning out your home/garage, your storage facility, or your Placentia, CA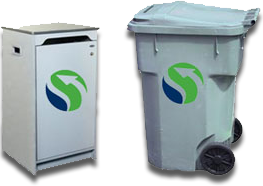 office – all private and confidential documents must be securely destroyed. Coastal Secure Shredding will come in our mobile document shredding truck to your residence or place of business in Placentia, CA . We will shred any amount of boxes from 2 to 2000 boxes! Our shred technician will transfer your old records from the file boxes to our rolling, 95-gallon container. Coastal Secure Shredding is your solution for secure document shredding for commercial and residential Placentia, CA , specializing in sensitive data and document destruction. Coastal provides documentation of destruction through an AAA Certification with National Association of Information Destruction (NAID).

Coastal Secure Shredding ensures total security and complete privacy. Your confidential information stays confidential with fast, reliable, affordable and convenient service in Placentia, CA . All shredded paper is recycled near Placentia, CA , reducing landfills, saving trees, and improving our environment. Our truck, full of shredded paper, is driven to an approved recycling center near Placentia, CA . The contents are emptied by means of special mechanical plates which move the shredded paper directly to the center's operation. Document destruction ensures your privacy and that of your employees, customers, patients, students. Destroying all confidential documents greatly minimizes the risk of not only Identity Theft, but of corporate espionage and security breaches. Shredding takes place in our state-of-the-art trucks, at your Placentia, CA location, and is certified secure by NAID.