The Most Comprehensive, Cost-Effective Service Available
Committed to secure and complete destruction of your confidential documents
In compliance with all state and federal regulations
Helping to keep our environment clean
Woman-owned
Locally operated
Serving Orange County and surrounding areas
Coastal Secure Shredding is your solution for secure document shredding for the commercial and residential region of Orange County, specializing in sensitive data and document destruction. Coastal provides documentation of destruction through an AAA Certification with National Association of Information Destruction (NAID).
Coastal Secure Shredding ensures total security and complete privacy. Your confidential information stays confidential with fast, reliable, affordable and convenient service.
Why Choose Coastal Secure Shredding?
Shredded on-site at your location
Live video monitor
State of the art hi-speed shredding equipment
Secure and complete document destruction
Serving any size office, business or residence
Meet the Team
Lisa Grundy Johnson
President ljohnson@coastalshred.com
University Southern California — Graduate
University San Diego Real Estate and Corporate Law
Co-owner; Newport Beach Real Estate Agency 20+ years
Lifetime resident of Newport Beach
Community involvement:
Hoag Hospital Auxiliary/552 Club
Kappa Kappa Gamma
Junior League of Orange County
St. Andrews Presbyterian Church
Sailing, Cooking and Gardening
William S. Johnson, CPA
Vice President ljohnson@coastalshred.com
Bill is a former CFO of two public companies, including Earle M. Jorgensen Co., one of the largest steel and aluminum distributors in North America. He has extensive experience in implementing Sarbanes-Oxley compliance controls and procedures. He has experience as a "Big 4″ CPA and senior internal auditor with a major global healthcare company.
Go Green!
All shredded paper is recycled, reducing landfills, saving trees, and improving our environment. Our truck, full of shredded paper, is driven to an approved recycling center. The contents are emptied by means of special mechanical plates which move the shredded paper directly to the center's operation. The process is complete.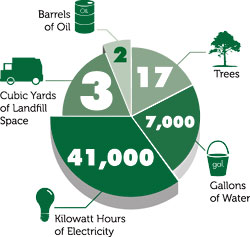 Recycling 1 short ton (0.91 t) of paper saves 17 mature trees, 7 thousand US gallons (26 m3) of water, 3 cubic yards (2.3 m3) of landfill space, 2 barrels of oil (84 US gal or 320 l), and 41,000 kilowatt-hours (15 GJ) of electricity — enough energy to power the average American home for five months.